Ceviche Estilo Acapulco
(Marinated Swordfish Acapulco Style)

Mexican

2 pounds fresh New Jersey swordfish steaks or flounder filets
Juice of 5 limes or small lemons
1/8 cup chopped onion
4 serrano chilis, chopped (or 1 teaspoon Tabasco)
1/8 cup olive oil
1 tablespoon vinegar
1/8 teaspoon thyme.
1 tablespoon chopped parsley.
1/2 cup fresh red pepper or pimiento, chopped
Salt and pepper to taste

YIELD: Eight servings

1. Cut the fish into 1/2-inch cubes, place with the lime or lemon juice in an earthenware or glass covered bowl, and refrigerate for 3 hours, occasionally turning the fish cubes with a wooden spoon.

2. Remove from the refrigerator and combine the balance of the ingredients with the marinated fish cubes; blend thoroughly using a wooden spoon. Refrigerate overnight before serving.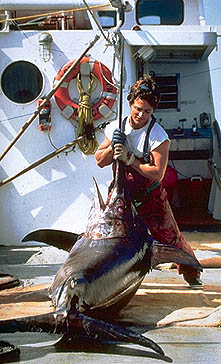 (Modified from The Nouvelle Cuisine Cookbook by Armand Aulicino, 1976, Grosset & Dunlap, Publishers, New York, NY)