FISH FAX
Providing Facts About New Jersey Seafood
Seafood for Consumers Coalition Supports A2165
Assemblyman Asselta and Assemblyman Impreveduto have introduced A2165, a bill
that authorizes and regulates the sale of striped bass. This bill would allow New
Jersey seafood consumers to buy striped bass provided by a strictly regulated and limited harvest in restaurants, supermarkets and other retail outlets. Some special interests falsely claim that striped bass are not abundant. Here are the facts:
"Our information records go back to the 1880's. This year's science showed that there are more striped bass than in any time of the history of this nation, so we can have successes."
– Rolland Schmitten, head of the National Marine Fisheries Service, Testimony before the Fisheries Subcommittee of the House Resources Committee, on September 11, 1997.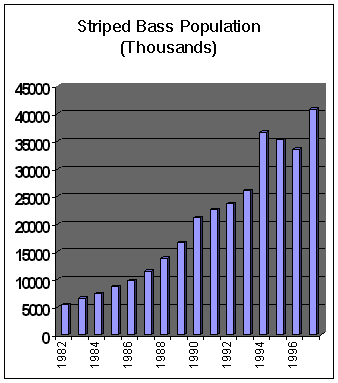 The Seafood for Consumers Coalition is comprised of the New Jersey Food Council, Farm Bureau, Restaurant Association, Seafood Harvesters Association, Bait Fish and Menhaden Alliance, Cape May Seafood Association, Fishermen's Dock Cooperative, National Fisheries Institute, and numerous individual businesses and individuals. Contact 609-729-9050 for more information.

Back to Striped Bass introduction