Issue #1
May 7, 1997
An introduction to NJ FishNet and the New Jersey commercial fishing industry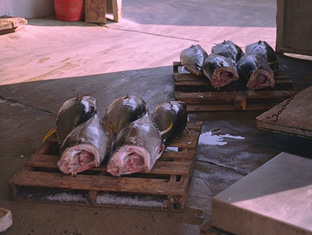 This is the first in what will be a regular (twice a month) series of faxes touching on various aspects of the commercial fishing industry and the fish and seafood business from the water to the table. While our main focus will be on New Jersey, the issues we will be discussing will be relevant far beyond our borders or our waters.
We're sorry for this uninvited initial intrusion, but working from a number of databases and directories, we assumed by the information available to us that you would be interested. If you aren't, we again apologize, and if you fax this page back to 215-345-4869 with the box labeled "NOT INTERESTED" checked, we will remove you from our distribution list.
Unless we were really off target when we selected you for our initial distribution, even if you are not immediately interested we suggest that you stay on the list for at least the next month. You might find something of interest to your constituents, your readers, your clients, your members, or your customers. Our distribution list includes elected and appointed officials at the state and Federal level, broadcast and print media outlets, professional and trade organizations, environmental groups, and other individuals and organizations that we thought would be concerned with coastal, marine resource, consumer or food-related issues.
If you are not the right person in your office or organization to be receiving these faxes but someone there should be, we will make the necessary adjustments if you will take the time to fill in the appropriate information in the box below and fax it back to us. If you know of other people who might be interested, please indicate that as well. We'll include as many new recipients as possible.
We anticipate that you will occasionally have questions on the subject matter we cover or that you might be interested in following up on particular subjects. To aid you in this we will provide contacts whenever possible and will also include available public information sources. Please feel free to contact us via fax. We'll respond as best we can.
Our plans include integrating this fax system with a World Wide Web site which is currently under construction. We will keep you informed of progress.
Thank you for your interest.

New Jersey's Commercial Fishing Industry
- A Brief Overview -
by: Nils Stolpe
New Jersey's commercial fishermen, fishing primarily in the inshore and offshore waters of the New York Bight, land between $70 and $100 million worth of finfish and shellfish in New Jersey fishing ports every year. These landings generate on the order of a half-a-billion dollars of economic activity in New Jersey's coastal communities each year; economic activity that is environmentally sound, that enhances the unique character of the Jersey shore, and that isn't crammed into the few months between Memorial Day and Labor Day.
New Jersey's commercial fisheries range from traditional, inshore operations like clam tonging - where success demands only basic equipment and a willingness to work hard - to ocean-spanning ventures targeting species ranging far beyond the United States' 200 mile Exclusive Economic Zone. Their harvest, from ocean-fresh live clams, lobsters and oysters to processed and quick-frozen convenience dishes like clam strips, can be marketed locally or shipped to all of the major international seafood markets. A growing number of New Jersey based vessels are working distant waters, landing fish in South America, the Caribbean and in ports up and down the East Coast, but the dollars they generate come back to the Jersey shore.
While the landings in New Jersey ports varies with natural population cycles and market conditions, the primary species destined for domestic consumption in recent years have been surf clams, sea scallops, various finfish (fluke, bluefish, weakfish, monkfish, silver hake) and hard clams. A large export market has also been developed for squid and Atlantic mackerel. Driven by a seemingly insatiable demand for high-quality marine protein, some industry leaders are focusing on harvesting and marketing the plentiful dogfish and researchers are evaluating the potential for other species such as sea robins. There is also an important ongoing research effort to revitalize New Jersey's once flourishing oyster industry, an industry that was at one time the primary employer on the Delaware Bay.
The principal commercial fishing ports are Cape May/Wildwood (scallops, sea clams, squid, mackerel, weakfish, fluke), Atlantic City (sea clams), Barnegat Light (swordfish, tunas, tilefish, scallops), Point Pleasant (silver hake, squid, fluke, scallops) and Belford (whiting, squid, lobster). Smaller fleets based in Belmar, Sea Isle City, Barnegat and in ports on Delaware Bay also have significant landings. The major gear types are otter trawls, hydraulic and mechanical dredges, longlines and inshore gill nets. While many types of commercial harvesting gear are prohibited in inshore waters, a flourishing hard clam fishery using hand gear employs thousands of full-time and part-time baymen from Cape May to Belford.
Like New Jersey's commercial fisheries, New Jersey's fishermen show a surprising diversity. There are families that have three generations actively fishing today in the shadows of the twin towers of the World Trade Center and there are corporate and academic "drop-outs" who have come to commercial fishing as a more attractive - but not necessarily easier - alternative career. There are captains working on their own boats to supply family-run seafood stores, there are wives handling the shoreside business so their husbands can get more time on the fishing grounds and there are captains running vessels owned by large corporations in vertically integrated catching/processing/marketing operations. But one thing they all have in common is the ability to make a living on one of the most heavily used - and abused - bodies of water there is, the New York Bight. This ability benefits the fishermen, their families, the people in industries that are directly or indirectly dependent on commercial fishing, the consumers who enjoy what they harvest, and the millions of people who enjoy a coast that isn't wall-to-wall commercial, residential and recreational development. As long we have commercial fishermen in New Jersey, we have a reminder that our coastal areas, when used responsibly rather than abused unthinkingly, will provide us with much more than seasonal entertainment or exclusive addresses.
(from an article originally written for the Hudson River Foundation)