Assemblyman Nicholas Asselta recognizes Jersey consumers' contributions to the recovery of striped bass
by
Nils E. Stolpe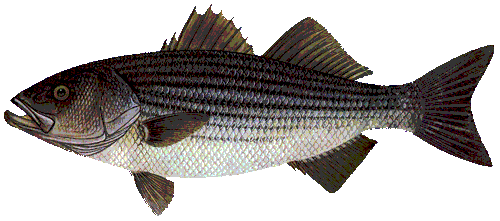 Isn't it time for New Jersey consumers to be able to enjoy striped bass again?
For years New Jersey's seafood lovers have been prevented from enjoying one of the finest culinary experiences our local waters have to offer. Because natural populations of striped bass had been suffering from habitat degradation and excessive harvesting due to their popularity with both consumers and the recreational angling community, the legislature in Trenton passed several much needed laws to protect the species. To aid in the recovery of striped bass, as renowned in the food world for their culinary characteristics as in the angling community for their valiant struggles to avoid capture, their sale in seafood markets and restaurants and their possession by sports anglers was prohibited in New Jersey.

Today the National Marine Fisheries Service reports that the striped bass stocks on the Atlantic coast are at historically high levels. This is a testament to the sacrifices of the non-fishing consumers, who gave up an unparalleled dining experience, and sports anglers, who were required to release all those striped bass they caught. Because of this dramatic recovery the regulations by which striped bass are managed were relaxed. But surprisingly, in New Jersey only the anglers were rewarded. Under rules established through a strictly monitored management program they are now permitted to keep several bass a day for the table.
Ocean-fresh Striped Bass - a delicacy since colonial times....and one that millions of New Jersey consumers are missing because a handful of sportsfishermen want them all for themselves.
"The Basse is one of the best fishes in the Countrey, and though men are soone wearied with other fish, yet are they never with Basse. It is a delicate, fine, fat, fast fish...pleasant to the pallat, and wholesome to the stomach. (New England's Prospects, William Wood, London, 1634)" from The Encyclopedia of Fish Cookery by McClane & deZanger.
"When her Majesty Queen Elizabeth and Prince Philip dined at the Waldorf in 1957, Claude Philippe, with a Gallic regard for Americana, had prepared, 4,500 pounds of striped bass for the royal feast. Monsieur Philippe... presented the fish with a champagne sauce surrounded by golden fleurons. The bass had been caught a scant 24 hours before in the salty waters of Montauk. Her Majesty pronounced the fish a culinary masterpiece...." also from McClane's Encyclopedia.
"Tasting the wild and farmed striped bass side by side reveals their greatest difference. The farmed one has more fragile flesh but, many chefs agree, is inferior in flavor. "It's muddy and bland," said Eric Ripert, the chef at Le Bernardin, on West 51st Street. He will not serve it in his restaurant. Nor will Boulud at Daniel or Moonen at Oceana. "It tastes more of the protein it eats all day than it does of itself," Mr. Boulud said....The wild striped bass, on the other hand, is a muscular fish. "It's very special, because it's not a fish that sits around so much,..." from A Catch to Make a Chef's Heart Leap by A. Hester in The New York Times on 1/28/98.
Since striped bass have come back the organization responsible for their management from Maine to Florida, the Atlantic States Marine Fisheries Commission, has divided each state's annual quota into a "recreational" catch for the sports anglers and a "commercial" harvest for the non-fishing public. Thus seafood connoisseurs in other states and anglers everywhere can now enjoy a meal of striped bass. However, because State law prohibits their sale, the New Jersey consumer's share of this delicious fish is denied to the public and totally allocated to sports anglers each year.
The non-angling New Jersey resident is still barred from the the experience of feasting on a fresh-from-the-ocean striped bass within the State's borders. (While the sale of "farm raised" striped bass or striped bass/perch hybrids is not prohibited in New Jersey, as the New York Times reported earlier this year -- see above, they aren't in the same culinary league at all). This at a time when our coastal waters are once again filled with this very desirable fish and when the dietary benefits of high quality seafood are finally attracting the level of consumer attention they deserve.

To correct this situation, to rightfully allow those New Jersey residents who either can't afford or don't want to catch their own seafood to once again enjoy striped bass freshly harvested from their State's waters, New Jersey Assemblyman Nicholas Asselta has introduced legislation which will permit working fishermen to keep and consumers to purchase striped bass in New Jersey. This will be done in strict accordance with the provisions of the management plan instituted by the Atlantic States Marine Fisheries Commission and enforced by the New Jersey Department of Environmental Protection. New Jersey's seafood purveyors, consumers and restaurateurs will once again be on an equal footing with their counterparts in neighboring states. The legislation also imposes a modest fee on the sale of each fish. Revenues generated will be dedicated to a striped bass research and management program, ensuring the future of a fishery that is equally important to seafood lovers and sports anglers.
For more information contact Jeff Reichle at Lund's Fishery in Cape May at 609 729-9050
- Produced and distributed by NJ FishNet -

Back to Striped Bass introduction